FARGO — When the unexpected phone call came in, Jay Hershberger was busy feeding his horse. "Hello?"
It was Rev. James Cheney, chaplain of the St. Paul's Newman Center at North Dakota State University, and pilot, wondering if he'd be interested in flying to Minneapolis that very day.
"It was the day after Thanksgiving, and he said, 'What are you doing? Wanna get in a plane with me and fly to Minneapolis to shop for a piano?' " recalls Hershberger, an accomplished pianist who's provided musical consultation for Cheney.
Quickly finishing his duties, Hershberger grabbed what he'd need for the day.
"Father said, 'Meet me at Hanger 19 in an hour,' " he says.
By afternoon, the two were in the Twin Cities, perusing varieties of ebony and ivory, searching for just the right one to grace the new Newman Center chapel in time for its anticipated dedication in September.
Hershberger didn't take long in finding his way to the 7-foot Steinway Model B.
"Jay was able to put all these different pianos to the test," Cheney says, "but the Steinway was just a measure above all the other ones in terms of its ability to get really loud or really soft," along with its exceptional tone.
"That was his recommendation, and it should last us 50 years," Cheney says, noting that, to their gratitude, a couple donors stepped up immediately to sponsor nearly half of the $120,000 price tag. "It's just a beautiful instrument. So, we have a concert piano."
His vision for the investment reaches further than accompanying Mass hymns.
"I want it to be an opportunity for students," Cheney says. "If you've got some nice equipment, it will draw them into it."
And drawing them into it is the goal most of all, he and others agree — "it" being the heart of faith, and "them" being the students who congregate there.
"To echo the mission and words of Bishop Robert Barron," Hershberger says, "in this day and age, beauty is the doorway to reaching young people with the Gospel." That combination of "timeless music of the sacred liturgy with the visual beauty of art in the Church" can "create a space for conversations that ultimately lead to discussions regarding truth and goodness."
"Beauty," he adds, "seems to be a hook, an invitation, and in a sense, a wooing of the modern mind and heart."
There's perhaps no one more excited about the new piano, along with two organs to be housed permanently at "the Newman," as it's affectionately called, than Benton Schmidt, the center's new music director.
"It's great to have beautiful music in a beautiful space, whether within the liturgy or outside of it," Schmidt says.
While the instruments will ultimately serve the students connected to BisonCatholic most of all, both Schmidt and Cheney have desires of having the chapel be a place where anyone on campus, and even those beyond it, will be drawn.
"We're hoping we have a close connection with the music department, and maybe have different performances here in this space," Schmidt says, noting that they ultimately hope to offer courses in liturgical music that could be accredited through the college, and open to all.
"We'd also like to offer internships for people to learn what it's like doing church music in practical ways," he says. "It's great to take classes to learn things, but it's often very different day to day. How do you do church music on a Sunday morning?"
Though excited about the Steinway, Schmidt is just as delighted with a practice organ the Newman Center recently acquired, a 1996 instrument built by Ontko & Young out of South Carolina, which, he notes for organ lovers, features an eight-inch Gedeckt and a two-inch principal.
Schmidt traveled to South Carolina himself to pick up the instrument, having to bring it in pieces, and put it back together upon welcoming it into his Newman Center office, where it sits between two windows overlooking Twelfth Avenue North.
"This will be a great teaching tool. It's completely mechanical, so it does what you do; there's no electronic mediation," he says, calling it "a great incarnational experience."
The main organ, a 1954 Möller, currently being rebuilt by Philip J. Swartz of Greensboro, Georgia, was donated to the Newman Center by the Sequoyah Hills Presbyterian Church in Knoxville, Tennessee, and will fill the chapel with sound upon completion and installment.
"It's got 36 ranks, so it'll be a nice organ to have," Cheney says, noting that, when all is completed and installed, the cost will be about $500,000 for a $2.5 million organ. "It should be good to go, hopefully by September," he adds.
Grace Loegering, a recent NDSU graduate in microbiology who's been involved in the Newman Center as a cantor and choral member since her sophomore year, says she looks forward to the chapel's completion, and continuing to enliven souls through song.
"I'm so excited for the choir loft, and the organ we're going to have up there," she says, noting that she prefers, in her role as church musician, being less obtrusive.
"I think there's something beautiful about the musicians being almost hidden, so it's not a distraction during Mass," she says. "This isn't about me. It's about Jesus. And I think it will be really beautiful."
As a student attending the Newman Center when it was in transition, Loegering recalls the days when Mass was taking place in an office building, and later, how they had to borrow another church, Holy Spirit parish, for Mass and other gatherings.
"At the time, the Newman Center was really more a group of people than a place," she says, noting that currently, Mass is happening in the building's social hall.
"It's good to see the Newman Center becoming more of a place and a community," she says. "It's really wonderful to see all of this working out."
Hershberger says he's looking forward to the consecration of the chapel. "We'll be there, I'm sure, probably sitting in the pews just rejoicing," he says. "But I also hope that there will be continued connections between the Newman Center and parishes in the Fargo-Moorhead area, since they're right there."
That connection, he says, can be a way "to encourage one another to all strive to adore Jesus in the Mass."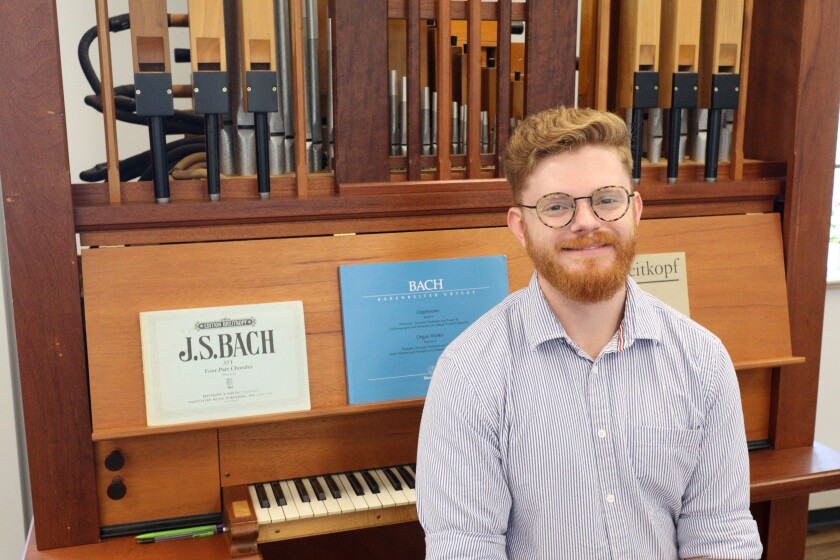 He considers Schmidt, a former NDSU student currently finishing his doctorate through the University of Kansas, to be an especially fitting addition to the setting.
"He's a wonderful musician, a terrific organist, and very knowledgeable," he says. "I'm excited for the Newman Center, the new sacred space, and the fact that there will be a significant-sized pipe organ. It's going to really be a very special sacred place for the Eucharist."
And all with the goal of inspiring the faith in young people, he adds.
"I think that the mission of the Newman Center is vital for the formation of the next generation of Christian disciples … to have that space and interaction with young people interested in the faith, under the guidance of the wonderful clergy," he says. "It's a good way to form our young people, and put them on a lifetime road of loving Jesus."
[For the sake of having a repository for my newspaper columns and articles, I reprint them here, with permission, a week after their run date. The preceding ran in The Forum newspaper on July 14, 2023.]