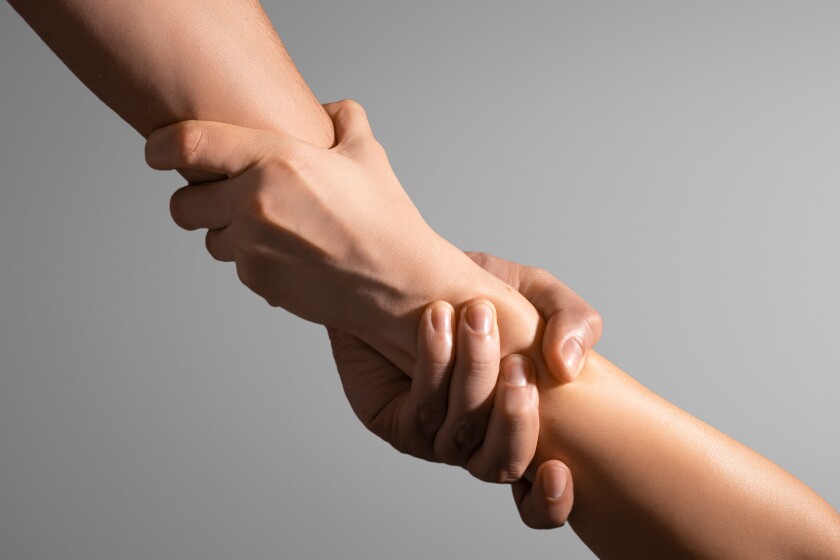 FARGO — In its earliest years, Central Cities Ministries focused on wandering souls coming through town, often by train, says its director, Deacon Stu Longtin.
But it's become harder to predict the situations that will present on distribution day, when those who've "fallen through the cracks" in some way show up at St. Anthony's parish, asking for a little hand up.
"One woman cried — she was embarrassed," Longtin says, explaining that, though the mother earned a solid income, after a divorce, and in caring for two children with special needs, bills piled up, leaving little for food. She was helped, as others have been, through a small grant distributed by the ministry, garnered through a community fund for unmet needs.
In the past, recipients were limited to $100 per application, but recently, the board extended the amount by $25. It might not seem like much, Longtin says, but in a bind, it can provide much-needed relief.
"It might be someone on disability who just can't stretch that check far enough," Longtin says. "Maybe their (eye) glasses broke, or they need special shoes, or a doctor visit."
One elderly woman returns every six months — the required waiting time between requests. "She's on a fixed income and doesn't have children who can help her."
She might request $10 for one need and $2 for another, he says, but she always leaves grateful.
Recently, the ministry met with a 19-year-old mother whose boyfriend "took off" upon learning of the pregnancy. On a piece of paper left before exiting, the young woman wrote: "You don't know what this means to me and my newborn daughter," Longtin says. "That one hit us between the eyes."
The ministry's history
An ecumenical effort of local Christian churches, Central Cities Ministries launched from Pontoppidan Lutheran Church in 1930. For many years, it was led by the Rev. Don Thorp, who, according to Longtin, stayed committed even after retiring from active ministry, getting around by a cane, then a walker.
"I thought, 'Wow, that's perseverance,'" Longtin says.
A collective outreach by many of the downtown churches, it emerged during the Great Depression. While most of the churches had small staffs, Pontoppidan was a little more equipped, and offered to take on the bulk of the work.
For a time in the 1970s, the Salvation Army distributed the grants, but in the early 1980s, the founding churches resumed the task and, during that same time, the ministry was given its current name.
"Over the years, it's had its ups and downs," says Longtin, who got involved when the Rev. Sue Koesterman was president, and around 25 churches active.
In 2011, the ministry organized and led the successful F-M Sheltering Churches initiative to help address local homelessness. But when that program ended in 2017, the ministry largely slipped from view, says Ruth Carnal, secretary.
"We were the fiscal agent for Sheltering Churches," she says, which lent itself to photo opportunities that kept the public informed. "We could take pictures of warm rooms filled with air mattresses and blankets… and bowls of hot soup and a pot of coffee."
But current needs are not as amenable to this kind of publicity.
Five years ago, Longtin, now president, pursued and received 501(c)(3) nonprofit status for the ministry to receive more donations. Then the COVID-19 pandemic happened, frustrating hopes for growth.
Now, those who remain committed want to revive interest and support, and welcome new life.
A call to make the invisible visible
Carnal says the ministry, which operates without an office and paid staff, can be somewhat invisible to the community, just like those it serves.
"We are too small to benefit from Giving Hearts Day," she says, but their need is as great as any nonprofit.
FirstLink prescreens the recipients, she says, "so we know there are no other resources in town which can help them." The most common requests are for transportation needs, help with rent or utilities, and cellphone minutes, with grants going directly to the vendor or company.
Those referred then meet briefly with ministry organizers, she says, who "provide dignity" to them by hearing their stories, while identification and bills are verified and checks written.
A member of Peace Lutheran Church and retired special education teacher, Carnal says her heart has always been in social ministry.
"I'm drawn to helping the little guy, the person who doesn't get noticed by anyone," she says. "I guess it's just in my being."
While not always present for the distribution, she says, occasionally, she's on site and privy to the "honest stories" shared. "People come in with a baby, or several kids, or with a physical disability, and it breaks a (heart) cord."
"I just think it's such an important ministry in our community. We're helping people directly who can't get help anyplace else," Carnal says." It's also a unique ministry in our area because it is so personal."
Many needing assistance are not homeless, she adds, but "just that trip to the grocery store is going to do them in," noting how inflation has exacerbated those needs.
While the ministry will accept any donation, monthly contributions from churches or other organizations are especially helpful, she says. Also, board members would gladly do "pulpit talks" to share about the ministry.
"I'm thankful to be able to walk alongside people, instead of just looking down at them," Carnal says about the circular effect of ministry. "We're just trying to do what we can to help our neighbors."
It's something Jesus modeled to us, she points out, when he washed his disciples' feet.
A final plea
Stan Franek, vice president, got involved in the ministry in 2009, when his pastor at St. Mark's Lutheran Church invited him to a board meeting. At the time, the person heading up distribution was moving on, so Franek raised his hand to assist.
Now 85, he calls himself "a lifelong Lutheran" who, influenced by his committed, church-going mother, collected "a lot of perfect attendance pins going to Sunday school" growing up. It seemed a given he'd end up in a career helping others.
A social worker for 40 years, including in Wyoming and Colorado, Franek once worked for an outreach agency in Denver that counseled the homeless and convicted felons. Returning to Fargo, he continued in social work until his last stint ended in 2009.
It seemed the right time to lend his experience to Central Cities Ministries. "We're not bashful," he says. "We need your help," both with distribution and financially.
Carnal says the outreach currently offers up to 24 grants monthly in biweekly distributions, but hopes to double that amount and increase to weekly distribution, noting, "Even a $125 grant can help to change a life!"
For more information on helping the ministry, call Deacon Stu Longtin at 701-799-5817. Donations can be made online at www.centralcitiesministries.com , or sent by mail to:
Central Cities Ministries
P.O. Box 1912
Fargo, ND 58107
[For the sake of having a repository for my newspaper columns and articles, I reprint them here, with permission, a week after their run date. The preceding ran in The Forum newspaper on April 22 2022.]