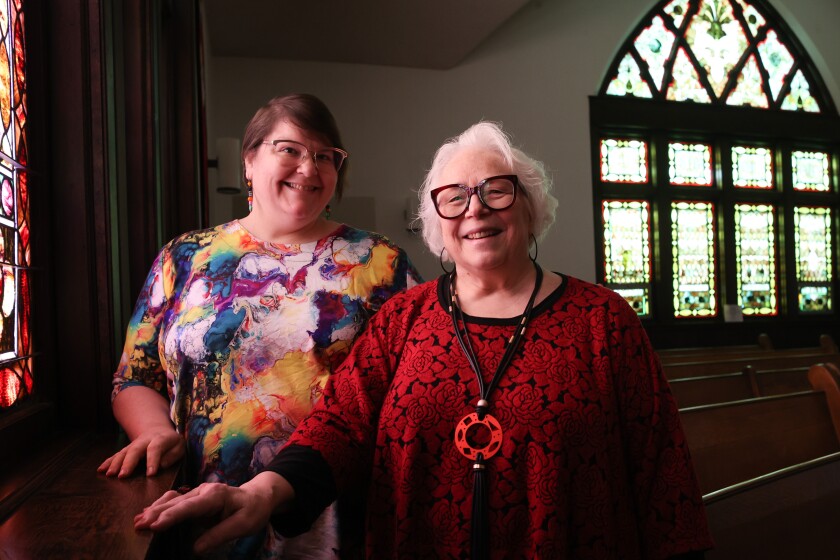 MOORHEAD — As the operatic voice of Barbara Schramm fills the sanctuary of First Congregational United Church of Christ, the hearts of her fellow congregants swell, as if a piece of heaven has wafted into their space.
And when loved ones pass, it is this angelic tone they request to help usher those souls into eternity.
"Most of her singing here is in the context of worship and funerals, so her voice is full of emotion in those times, and she has a rich, full soprano voice," says the Rev. Michelle Webber. "Her voice is history and passion and love; a gift to my heart."
Bypassing Schramm on the street, or at her clothing shop, The 3 Bees Boutique, one couldn't possibly know the treasures she holds within.
But Donna Ryder knows them well. "Vibrant," "creative" and "smart" are all ways she's described her little sister.
"She could have done so many things," she says of Schramm, noting her engaged orientation toward others. "She's really an interesting person."
Who's led an interesting life.
A tragic beginning
Schramm grew up in Moorhead, raised in a faith-filled home with an older brother and sister whose talents were all encouraged.
"I didn't realize fully until years later how Mom taught me to look at all possibilities, and see all that was coming into my life as an opportunity," Schramm says.
The advice was borne of tragedy. At age 4, Barbara was badly burned in an accident. "Dad was building houses, and Barb was playing in a sandpile," Ryder recalls. Innocently, she reached for a can of tar, throwing it into a nearby bonfire, and it exploded.
"My Dad and Grandpa always let me help with the fire in our fireplace and I thought that I could help Dad by renewing his scrap fire," Schramm explains. "I truly didn't know how serious it was until my Mom sat with me in her kitchen and told me about it when I was 27!"
The burns delayed her early education, but the time at home brought blessing.
"My grandfather was living with us, and he taught me how to add, subtract, multiply, divide and read at age 4," she says. She finally started kindergarten at Trinity Lutheran Church after Christmas break the following year.
"Some of those kids… I've known all my life, and am still in contact with," she says. "It was a special upbringing."
The setback only seemed to embolden her undaunted spirit and zest for life. "It was a really hard thing for her to overcome, but she was so brave," Ryder says. "She didn't let it stop her one bit."
Leaving the nest
After high school, Schramm attended Northwestern University in St. Paul, obtaining a degree in music education, then teaching junior high music in Fairfax, Va., and high school in Connecticut, later earning her master's and doctorate degrees.
Northern Michigan University, where she taught at the collegiate level, was also where she "really started singing."
Schramm also continued conducting and singing in church choirs, which "always gave me that feeling of home."
When studying for a season as an opera apprentice in Des Moines, Iowa, her instructor suggested she go to New York City to pursue professional opera singing. Newly divorced, Schramm, then 32, decided to spread her wings.
She was introduced to a voice teacher and his wife, becoming their housekeeper and nanny, receiving weekly voice lessons as her stipend. Schramm also became the alto soloist at the First Presbyterian Church on Fifth Avenue, finding solace "amidst the rat race of New York City."
"There are thousands of people who want to be singers, but I got encouragement there," Schramm says. "It kept me returning to that inner calm and peace I'd found in my home church."
Carnegie Hall and Europe
Schramm ultimately reached the stage of Carnegie Hall, where she performed numerous times.
"I always thought, 'There are so many others (pursuing professional opera singing). How is it that I am onstage at Carnegie Hall?'"
She credits her humble upbringing, and her mentor, Eve Queler, who directed the Opera Orchestra of New York, and helped Schramm not only attract a manager, but garner sponsorship for a new opera gown.
Schramm was in New York nearly five years before her next adventure in Austria. Landing first in Graz, Schramm performed for three years in a small opera house there.
During difficult moments, she says, she was uplifted once again by an unexpected helper — a friend who welcomed her into her home, and invited her to Mass.
"Gisela was such a help and support at that time, and because she had such a connection to her faith, she had enough to help me as well," Schramm says.
From there, she went to Germany, where she worked as a choir director at an evangelical church, and where "there were more people on Easter Sunday in the choir than who came to church."
Schramm was considering returning home when an agent gave her a list of seven opera houses, encouraging her to audition. In a carefree, nothing-to-lose state of mind, she says, "I got a job at all seven," which kept her singing for a couple more years as a freelancer, "going from opera house to opera house."
During this time, she met her husband, Roland, whom she affectionately calls her "German souvenir."
The full-circle flight
They married at her home church during a visit home in August 2000 — the same space in which she was baptized and confirmed. Returning to Germany, Schramm taught at a university and conducted various choirs before they relocated to Moorhead in 2007 to care for Schramm's aging parents.
She taught at Concordia College as an adjunct professor, saying goodbye to her father and mother in 2010 and 2011, respectively.
"That was a big change. There was an emptiness there," she admits. But her music and faith kept her going, along with her love of teaching students how to be self-aware and honest.
"We're already perfect, and often, when we try to change or think we are not good enough, we are changing that perfection, and that gets in the way when we sing. It stops our flow, the breath."
Her friend Sandra Roe, whom she met through a philanthropic organization, says the two didn't seem to have anything in common.
"I don't play a musical instrument. I don't cook." But they delight in sharing meals and helping women find educational opportunities.
"I can honestly say she sees the good in people, and encourages people to see the good in themselves, not by force, but through calm reassurance," Roe says.
It's a confidence that seems to have stemmed from a solid grounding, as described by Schramm's favorite German word, Zufriedenheit, which means contentment, or inner calm.
"She always talks about what a good foundation this church gave her," Webber says, "and how she literally went out into the whole world, but this place always felt like home."
Ryder, also a music conductor and performer, stands in amazement at Schramm's ability to "just stand up and go," even in hard times. "I'm so proud of what she's doing with her shop. I just can't believe she turned a corner and did a complete life change in her 70s."
She's learned as much from her little sister as the reverse, she adds, including the concept of "let your po go," which, essentially means, as Webber explains, "That you have to relax into yourself and set things down in order to be free enough to reach the notes you need to reach."
Now, Schramm teaches private voices lessons, sometimes humming while collecting women's attire from Europe for her shop at the Moorhead Center Mall, which opened in April 2021, and brings together the many pieces of her life.
But how do these seemingly disparate pieces meld, one might ask? Schramm says her enjoyment in helping women feel more confident and "not in conflict within themselves" through finding beautiful, affordable clothes is not unlike her enjoyment of teaching singing.
"You have to be true to yourself, to your body and to the music, in order to be a good singer, in order for it to be beautiful," she says.
It is in finding that inner beauty, she concludes, that we come in contact with our goodness, and God.
[For the sake of having a repository for my newspaper columns and articles, I reprint them here, with permission, a week after their run date. The preceding ran in The Forum newspaper on Feb. 11, 2022.]